SCT was founded in 2006 to raise funds for Cystic Fibrosis sufferers in memory of Simone Cowland, who tragically lost her battle with CF aged 36. To date, we have raised over £600,000 for CF sufferers and their families.
Simone was a devoted wife, daughter, sister, granddaughter, friend and a very proud aunty. Born with CF in February 1969 she very quickly learnt that her life was not to be strictly typical but she carried out her daily routines of physiotherapy and medication with both discipline and enthusiasm.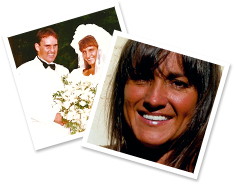 Determined not to let the disease beat her, Simone did all the things a teenager and young woman dreams of doing, including finding a job, having a wonderful social life, going horse riding and even getting married at the age of 21 to Brian. On her wedding day, she channelled Princess Diana perfectly with an enormous dress, full length veil and 9 bridesmaids!!
Simone graciously accepted the hand that life had dealt her and battled on for 36 years until sadly a serious infection took her life within 2 weeks.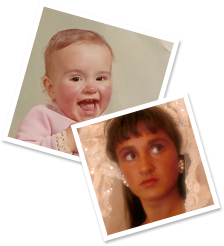 Before she died, Simone spent a great deal of her time on the Foulis ward at the Royal Brompton Hospital in Chelsea. She was amazed and humbled by the staff there and how well they cared for her and her fellow sufferers. But like most hospital wards, facilities were tight and essential equipment sometimes hard to come by. Simone often discussed the need for help on the ward to make the stay in hospital a little easier. And so the SCT was born after her death.
Simone, like other CF sufferers, was an inspirational person. She was born knowing she would die young and she fought every day to make sure life was as full and wonderful as possible. She radiated love and was the epitome of sunshine on a rainy day. Her infectious laugh and smile will never be forgotten.
The energy and motivation of the SCT to its continuing support of the Foulis Ward has been totally overwhelming and ensured that the quality of life for its patients, their relatives and the environment the staff work in is greatly improved. Many of the resources now provided on the Foulis Ward would not be there today if it were not for the continuing support of the SCT. Their commitment to providing and maintaining these resources is second to none and for this I have nothing but the utmost respect and thanks for them. – Stephen Barton, Senior Nurse/Modern Matron of Foulis Ward
Some of our volunteers

Michael Turner – SCT Patron
Norwich City Football Club's premiership footballer Michael Turner kindly offered to support our charity and help raise awareness through his profile along with taking time out to attend any fund raising events we organise whenever possible.
Mike
SCT Patron

As a CF sufferer, patient of the Foulis Ward and lung transplant recipient, Mike has seen first hand the work SCT does and is helping us to fundraise and raise awareness

Isaac
Commitee

Simone's brother-in-law

Claudia
Committee

jdfoshdfh

Jamie
Events Manager

Jamie and his Beautiful Events team make sure every Event we host goes off without a hitch. He's done a fantastic job so far and we can't wait for the next one.

Claire
Committee

Claire